As I previously discussed in my Detroit post from last year, I am a big fan of techno (not EDM) and have a hard time finding high-quality, dark techno in Chicago as it is more of a haven for happier house music. So I made my annual pilgrimage to Movement Electronic Festival, which gave me ample opportunities to explore the food and cocktail scene of Detroit.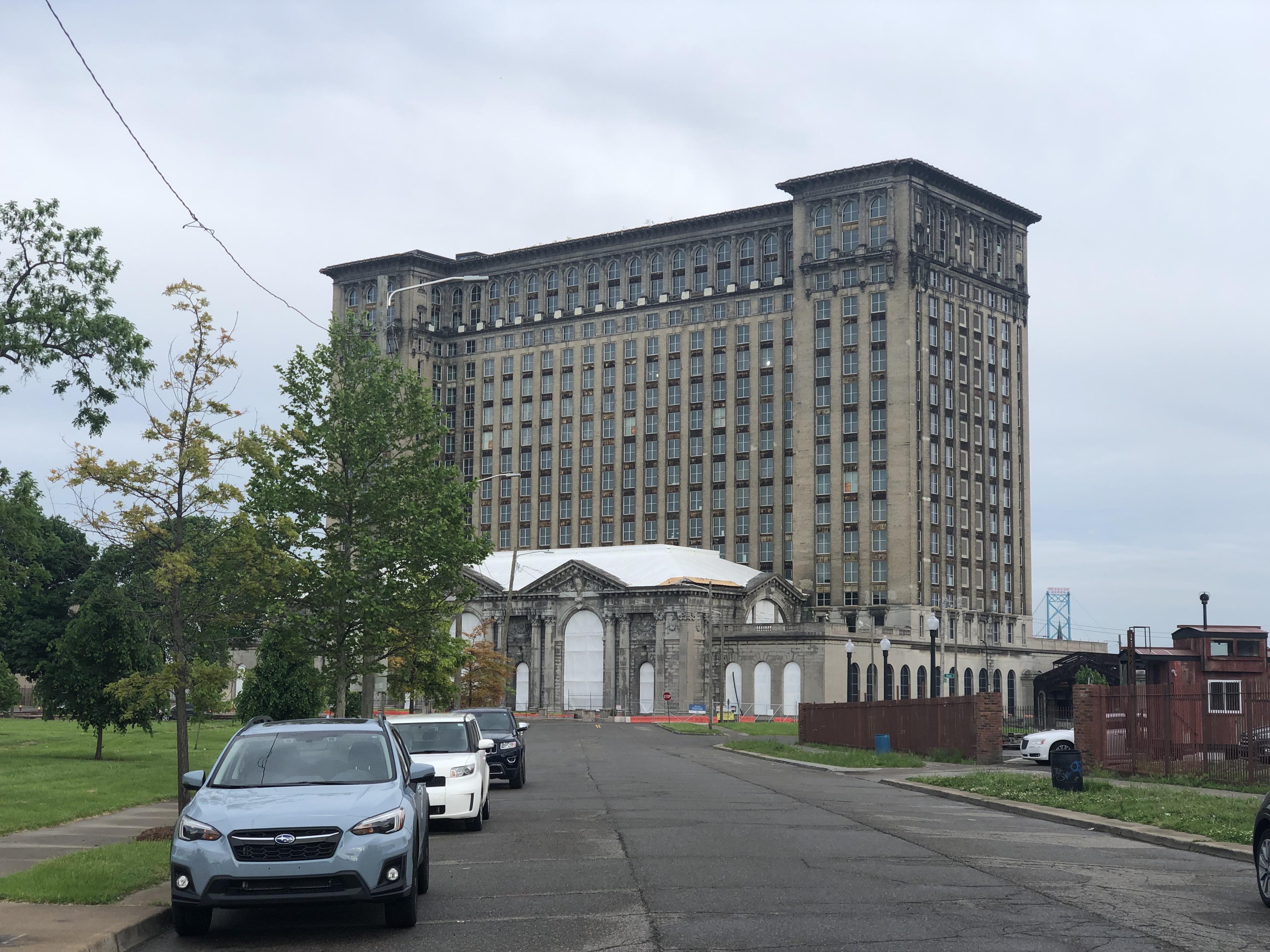 I always love the gritty vibe of Detroit as it feels more authentic with less glitzy, fake people than when you go out in Chicago. The architecture and street art are always hauntingly breathtaking and tragic at the same time. I am always interested in observing the gradual changes in Detroit that happen each year. While the city feels like it is slowly being rebuilt, it already has a thriving, affordable vegetarian food scene and impressive cocktail scene that will evolve in the next few years. See below for some notable vegetarian food and cocktail spots in Detroit!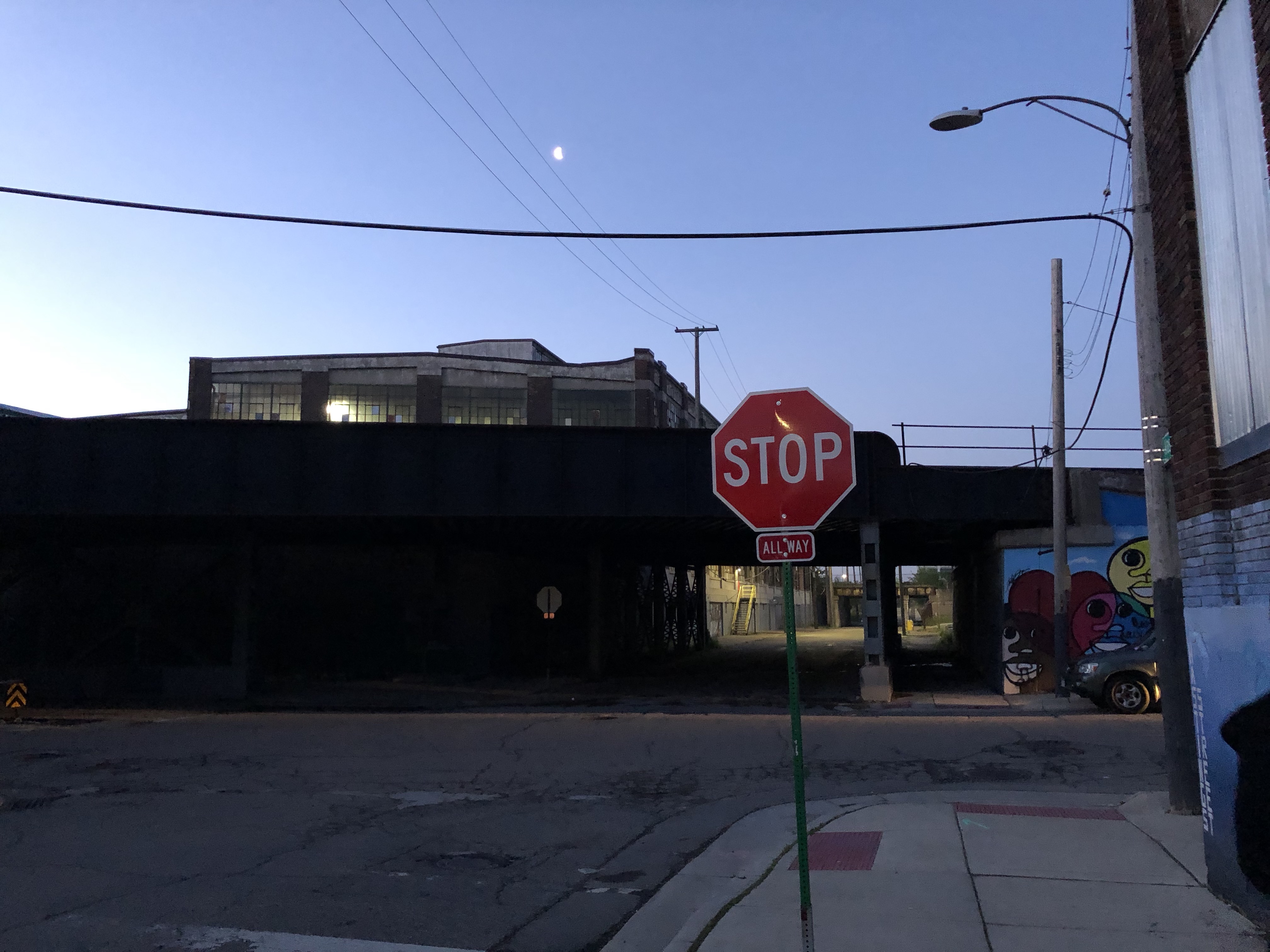 Neighborhood: Dearborn
| | |
| --- | --- |
| Vegetarian Options: | ★★★★ |
| Pescatarian Options: | ★★★★ |
| Affordability: | ★★★★ |
| Ambience: | ★★★1/2 |
| Service: | ★★★ |
| Food Quality: | ★★★★1/2 |
| Overall Rating: | ★★★★ |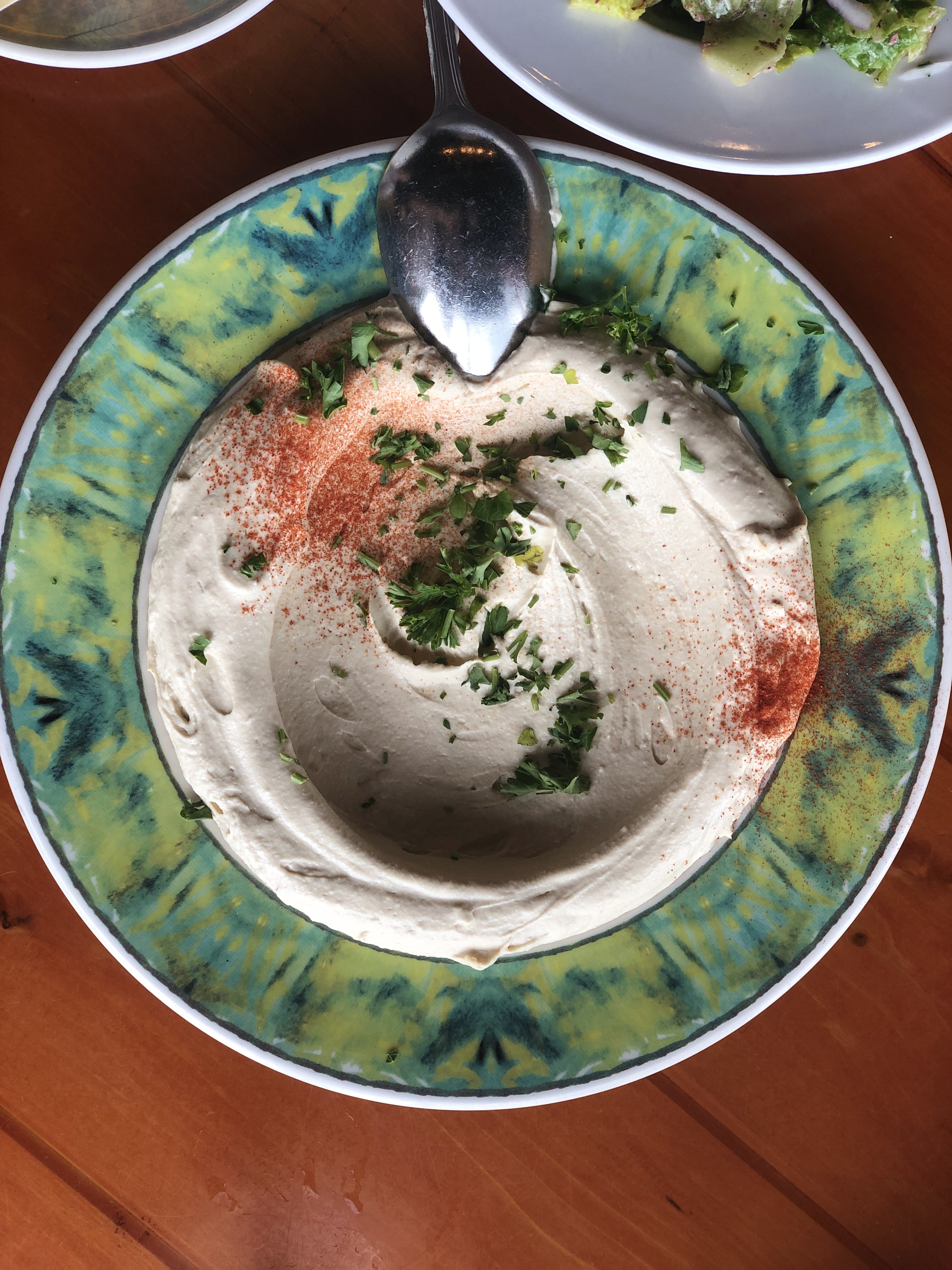 Ollie's has become a tradition for me as it has flavorful, hearty, and affordable Lebanese food in Dearborn (just outside of Detroit). Dearborn is a mecca for Middle Eastern food and is worth the short drive from Detroit. I recommend going to Ollie's for dinner instead of lunch since they have way more options and better service during dinner. I went there for lunch this time and it was still great but there were a few hiccups like being served room temperature pita bread and slow service. Overall, the food was still delicious.
We of course started with their traditional, yet super satisfying hummus. It's thick, well-seasoned, and simple. When it comes to hummus, my favorite is the traditional hummus, which I can easily find in this part of Detroit. I am also super in love with Ollie's lentil soup, it's always seasoned very well and is healthy to eat. For the main course, I ordered their Vegetarian Ghallaba over baba ganoush – essentially an assortment of seasoned vegetables with rice pilaf. The vegetables were crunchy and very well-seasoned. They were served on top of insanely delicious baba ganoush. The baba ganoush was smokey and complemented the rice pilaf very well. The portions are very large so it's always nice to have leftovers especially when you're hungry after dancing to techno all night.
Neighborhood: Downtown
| | |
| --- | --- |
| Vegetarian Options: | ★★★ |
| Pescatarian Options: | ★★★ |
| Affordability: | ★★★★ |
| Ambience: | ★★1/2 |
| Service: | ★★ |
| Food Quality: | ★★★★1/2 |
| Overall Rating: | ★★★ |
The festival got out around 1 am and we were hungry. We were downtown so we wanted to go somewhere that was not too far of a walk. We decided to go to Checker Bar Detroit. I honestly am not super into the Checker's vibe as it's divey and I am not into dive bars. However, they did have some decent looking vegetarian options so we decided to try it out. They weren't serving their regular menu so they didn't have vegetarian burgers. It was quite crowded from the post Movement traffic and the service was awful and slow. By the time our food came out, they were closing and yelling at people to leave. Was the food worth the bad service?
We ordered some basic shoestring fries, which were surprisingly seasoned well and really fulfilled our greasy food craving. We also shared two 12 inch pizzas, which felt larger than 12 inches. We ordered the vegetarian meat-hater pizza with artichokes, which tasted quite good. I really liked the artichokes and tomato sauce on it. We also ordered the vegan pizza, which was incredible. You wouldn't expect a place like Checker Bar to have great vegan pizza, but they do! It was more like a Mexican pizza with walnut chorizo, southwestern sauces, and vegan Mexican cheese. The flavors blended very well and I wish I could have eaten more of it. Go there when they're less busy because they do have good food!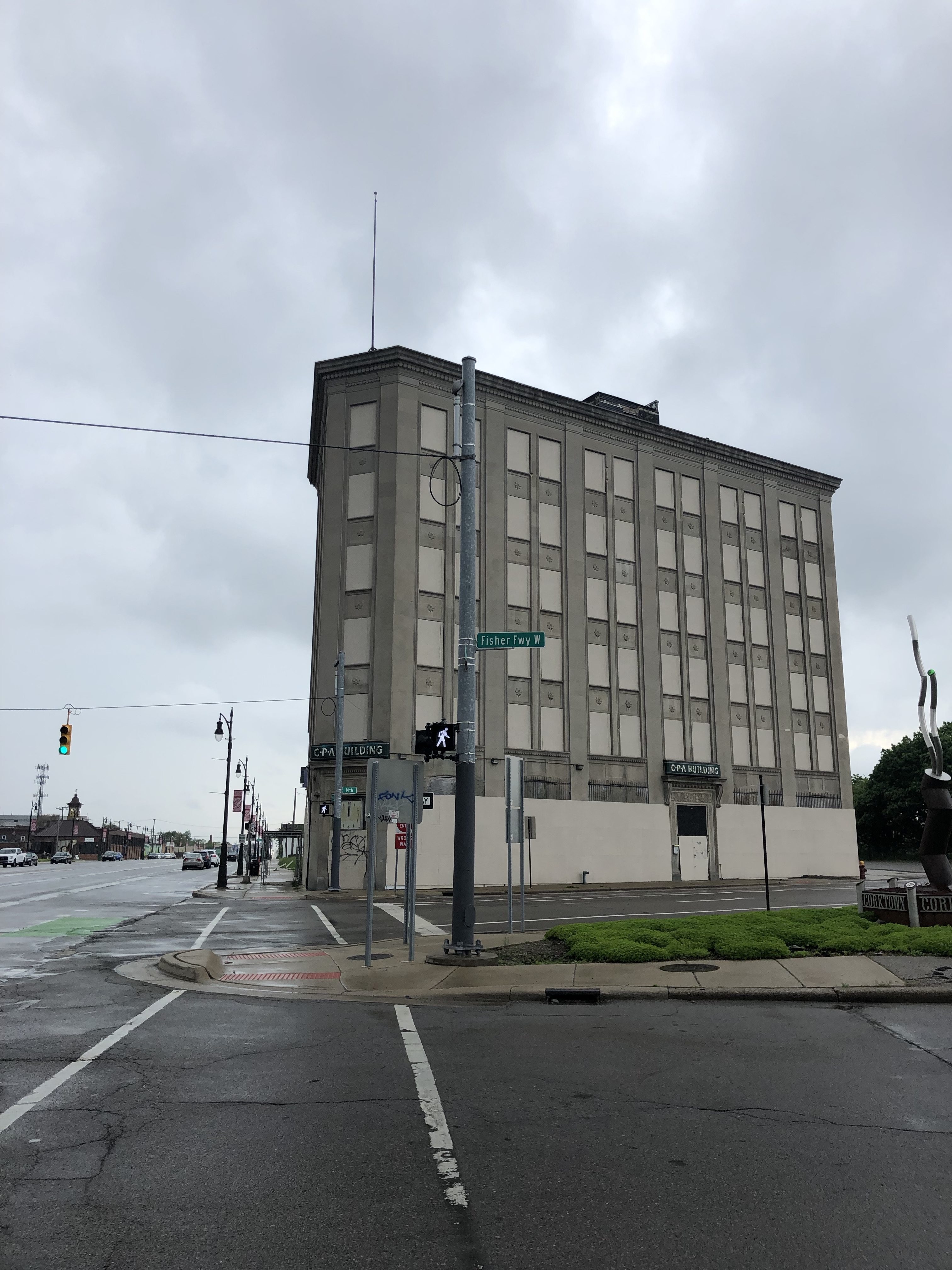 Neighborhood: Corktown
| | |
| --- | --- |
| Vegetarian Options: | ★★★★ |
| Pescatarian Options: | ★★★★★ |
| Affordability: | ★★★★ |
| Ambience: | ★★★★ |
| Service: | ★★★★ |
| Food Quality: | ★★★★1/2 |
| Overall Rating: | ★★★★ |
On our last day in Detroit we decided to explore Corktown as it has been highly recommended and has some great-looking vegetarian options. We went to Ima and I was very impressed. It's a small, intimate Asian noodle spot with a great aesthetic and wonderful deep house music playing in the background. The service was quick and solid especially after the rough time at Checker Bar the night before.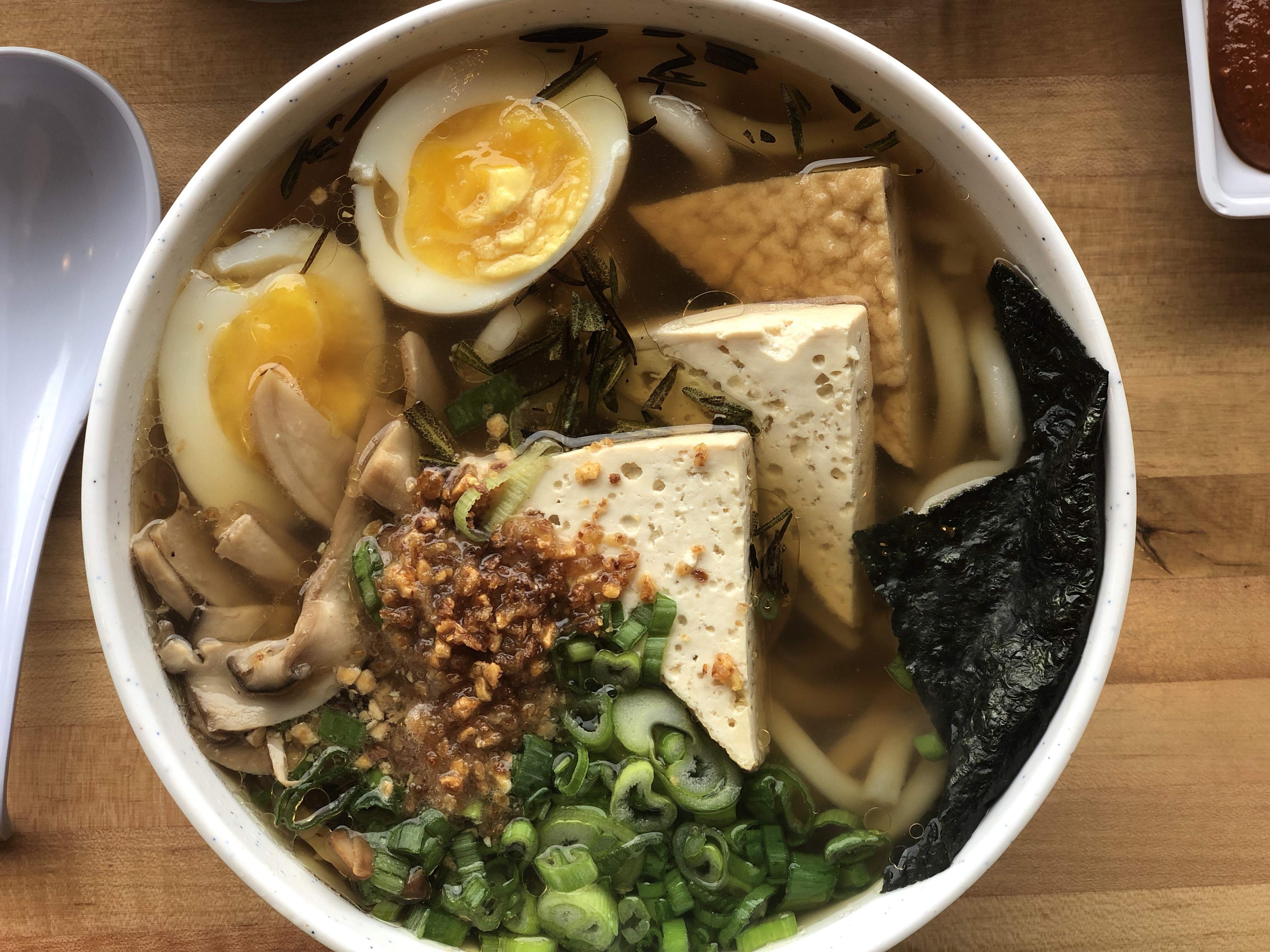 There were so many things I wanted to try on the menu because there were many solid vegetarian options but I decided to go with the ginger green tea and Forest Udon. The green tea was a mixture between loose-leaf and bagged tea – still perfect for a rainy day but I would have liked to taste the ginger more. The udon dish was great though. The noodles were definitely a highlight as they tasted fresh with a thick texture – perfect for slurping. The porcini mushroom broth was subtle and we added some ghost pepper sauce to it to spice it up. The trumpet mushrooms were a great touch. The tofu was satisfying but it could have been seasoned or smoked more. It was a very tasty bowl of udon with plenty of diverse vegetables. I am definitely coming back here next time I am in Detroit!
Neighborhood: Corktown
| | |
| --- | --- |
| Affordability: | ★★★ |
| Ambience: | ★★★★ |
| Service: | ★★★★★ |
| Drink Quality: | ★★★★1/2 |
| Overall Rating: | ★★★★1/2 |
I am quite accustomed to the myriad of wonderful cocktail bars in Chicago and wasn't expecting Detroit to have such a great cocktail scene considering everything they have been through in the past ten years. I was wrong to make such an assumption! The Sugar House was recommended via Detroit Eater and it was in the neighborhood we were exploring so why not try it? Their service was exemplary.
We sat at the bar and the bartenders were authentically nice and easygoing. It was a chill vibe for a cocktail spot, which I appreciated. They had quite the selection of cocktails ranging from seasonal spring cocktails to all the classic cocktails. I've never seen such a large cocktail menu in my life. I ordered the Staghorn Sumac, which was a mezcal cocktail with tequila, lime, and sumac. It was a refreshing, fun cocktail with a hint of chili-salt on the rim of the glass. I would have liked for the drink to be spicier, but it was still a good cocktail. I also tried the Dragon's Mouth cocktail, which had scotch, violet liqueur, and lemon. Instead of having a smokey flavor from the scotch, it had a unique tart flavor. I wish I could have tried more of their drinks! Definitely coming back here the next time I am in town!
Neighborhood: Corktown
| | |
| --- | --- |
| Affordability: | ★★★★ |
| Ambience: | ★★★★ |
| Service: | ★★★★1/2 |
| Drink Quality: | ★★★★ |
| Overall Rating: | ★★★★ |
Being a fan of Lost Lake in Chicago (a very notable tiki bar), I kept calling Lost Rivers Lost Lake in my head. Lost Rivers was doing a vegan popup that night so it was a perfect time to try this tiki bar. While the vegan options were limited and they were out of their main dish, I was still happy to try their cocktails. I tried the Zombie, which was presented with fire and tasted as great as it looked. It was a rum-based cocktail with Falernum, Pernod, Cinnamon syrup, and grapefruit. I loved the comforting cinnamon taste with the other refreshing flavors. We also tried the Tako, which had Rye, grapefruit, lime, and grenadine. This was also a pleasing cocktail but I am a fan of rum so I liked the Zombie more.
The other cocktails on their menu looked unique with a plethora of ingredients and were aesthetically pleasing. It's a fun, laid back tiki environment – though it is intimate and small so you might have to wait. I did like the smoky, dark vibe as it added to the tropical tiki feel.
And that's all for now…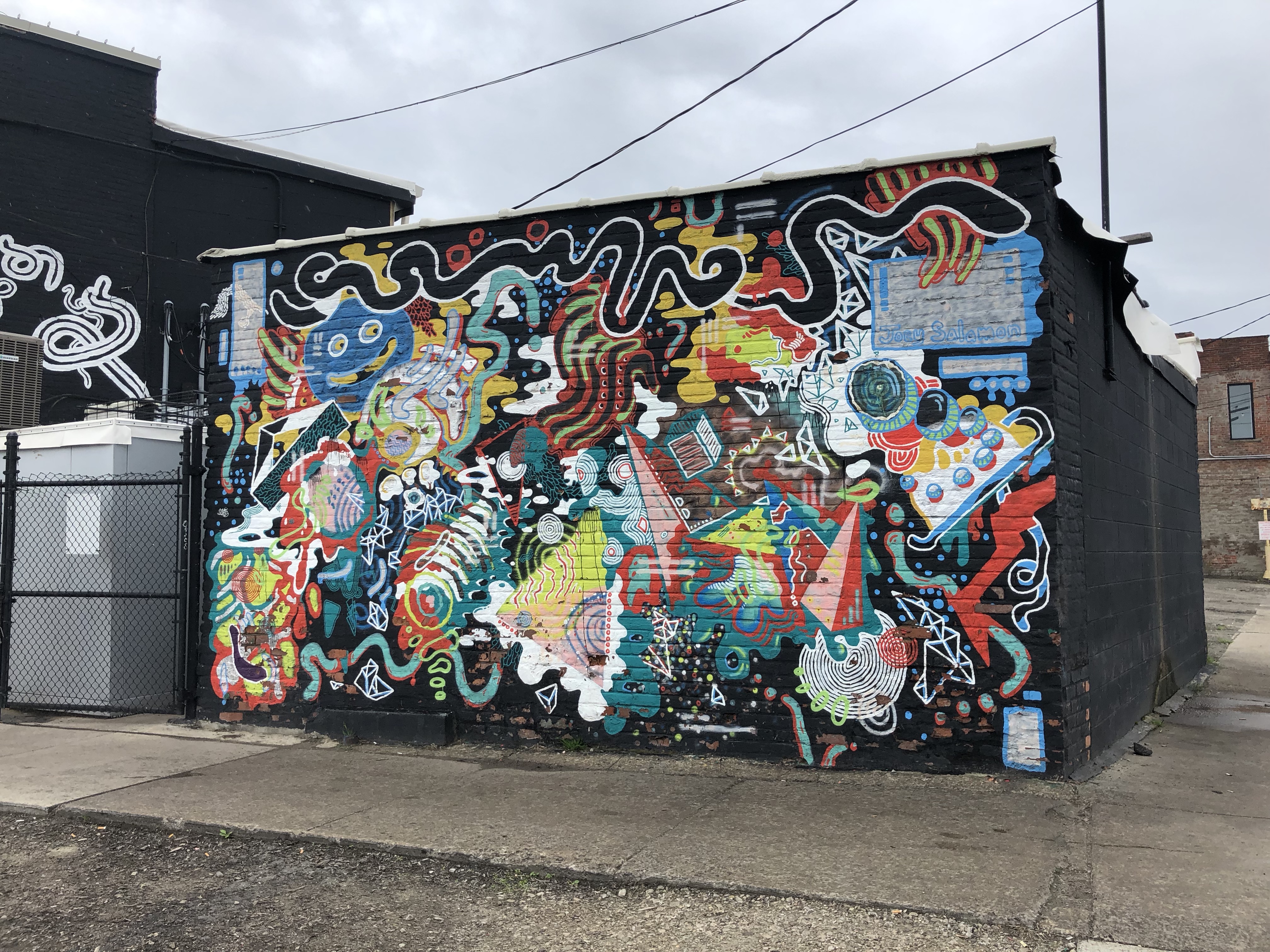 – Those were definitely the highlights! If you'd like to read about my Detroit experiences last year, check them out here! To the next Movement weekend in Detroit!